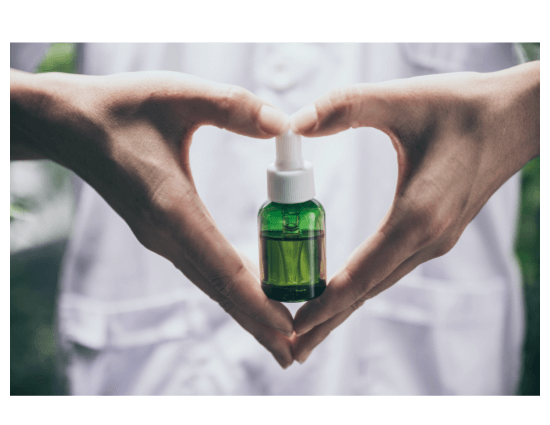 If you've ever suffered from sore muscles or just wanted to indulge in some much-deserved self care, you've probably turned to massage therapy. Whether deep tissue, Swedish, hot stone, trigger point, or sport, you know a good massage can do wonders for body, mind, and spirit. The Massage Therapists at Perpetuity spoil you with these techniques, and are now adding CBD to the mix.
Massage therapy has been around for over 6,000 years, with its roots in the Hindu healing art of Ayurveda. Despite these ancient origins, massage is as popular and in-demand as ever, a trusted option to relieve pain, stress, and tension. But why is massage so overwhelmingly popular? Because it works. But for a modality that's been around for literally thousands of years, it is incredibly adaptable to keep up with the times. A perfect example? The CBD Massage Experience at Perpetuity Skin + Spa.
First, what exactly is CBD oil? CBD oil is the CBD isolate pulled from the hemp plant through CO2 extraction and then diffused into a carrier oil, typically coconut-based MCT oil or hemp seed oil. Every CBD product, whether topical, tincture, edible, capsule or even bath bombs, is then made that CBD oil. Because massage incorporates some form of oil to make the therapist's hands glide more easily over the skin, CBD oil makes the perfect addition to this deeply healing practice.
Why is CBD oil so beneficial for massage? Your skin is the largest organ of our body, and like the rest of your body, it has cannabinoid receptors, which are part of your body's endocannabinoid system, or ECS. The ECS is integral to keeping all of your body's systems in balance, including mood, temperature, digestion, immunity, and even sleep. Because CBD has shown to interact positively with the ECS and cannabinoid receptors, it can help to support balance and to ease stress and pain. And since pure, hemp-derived CBD products are formulated to contain minimal or no THC, you can enjoy the benefits of CBD without any psychoactive properties at Perpetuity Skin + Spa.
Our CBD Massage Experience combines the best of science and self-care to provide a deeply soothing, relaxing, and therapeutic experience. Using a Deep Tissue massage technique, our massage therapists leverage the healing power of CBD to treat sports recovery, injuries and sore muscles, elevating your general health and wellness, and improving your relaxation and stress relief.
Even if you regularly have massage therapy, you may notice CBD massage benefits can include an added level of calm, relaxation, and tension relief as the CBD oil sinks into the skin and begins to interact with your cannabinoid receptors. Another added CBD massage benefit is how good CBD oil is for the skin. Hemp-derived CBD oil is a natural source of omega fatty acids, terpenes, and vitamins, all of which nourish your skin. And because CBD oil is similar to other oils, it will leave your skin feeling deeply hydrated and replenished, without a sticky or oily residue.
Why wait? Book the best CBD massage near you here at Perpetuity Skin + Spa on Vista Avenue in Boise. Let our Licensed Massage Therapists spoil you today!
We are Perpetuity Skin + Spa on Vista Avenue, and we are the Boise Bench's self-proclaimed best day spa! We offer many luxury day spa experiences, from organic facials, CBD massage, reiki, floatation therapy, hard gel manicures, facial waxing, dermaplaning, sugar scrub pedicures, Thai stretching, lash extensions, sugaring, body wraps and more! Our service menu outlines the therapeutic body therapies and advanced skincare solutions you've heard about, but haven't had the chance to try. The prices you pay here are fixed, no tipping, our deal is fair and square (curious why? Read here.) Come see why your experiences in self care should have always been in Perpetuity. BOOK NOW to secure your spot, or give us a call to organize something just for you! 208-996-3090