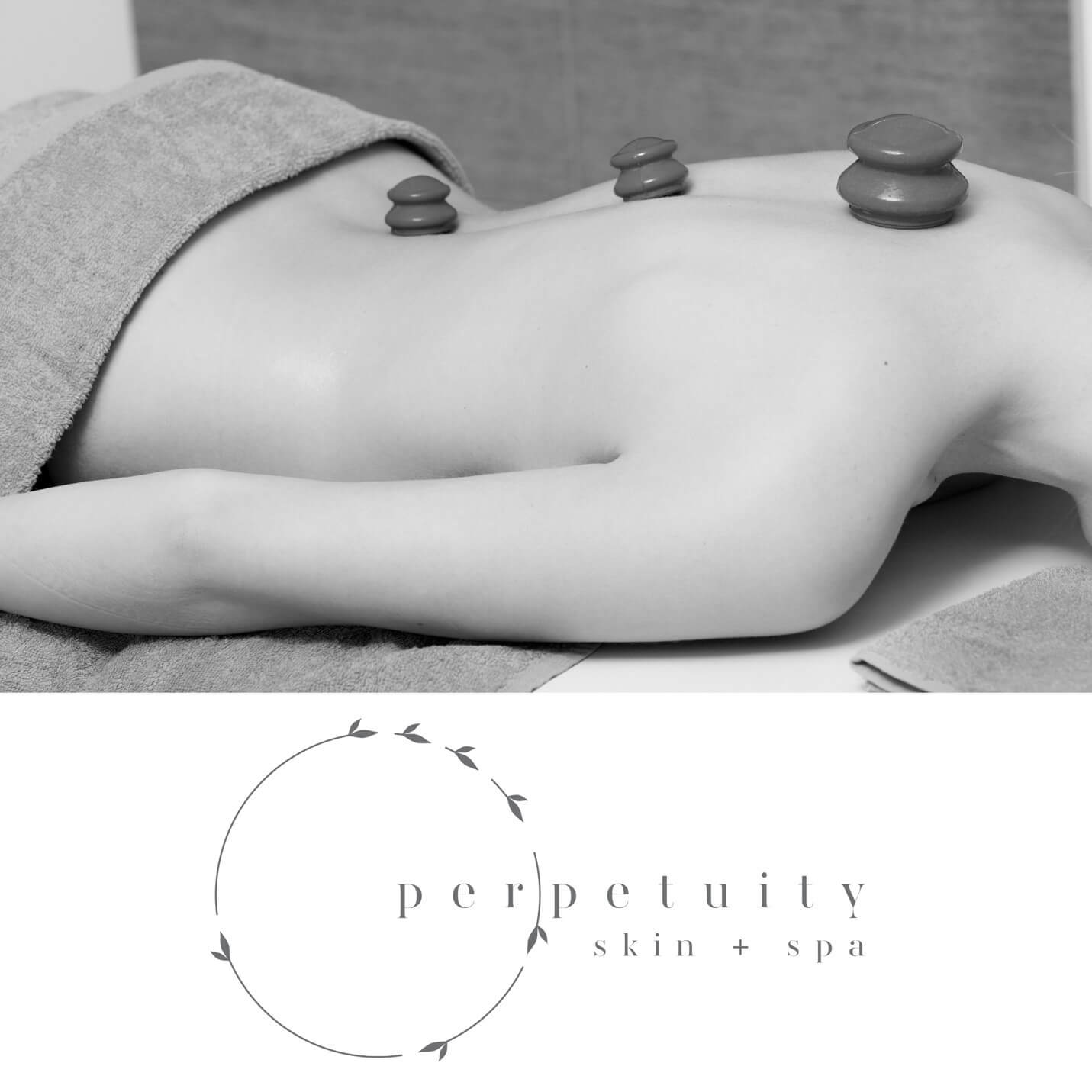 Many of our Licensed Massage Therapists here at Perpetuity Skin + Spa are certified in a form of Massage called Cupping. Also known as myofascial decompression,
Cupping has been popular in Egyptian, Chinese, and Middle Eastern cultures going back thousands of years, so this method of self-care goes way back. During a cupping session, a practitioner places round cups directly on your skin. The cup manually pumped to create a suction. The cups are then moved around on your skin, and in some cases, left on your skin for several minutes. The suction created by the cup encourages blood flow—and this increased circulation promotes healing and reduces pain.
Some people think of cupping as the opposite of massage because it works conversely to a traditional massage technique. Instead of applying pressure to the muscles with hands, cupping uses suction to lift your fascia, which are the connective tissues in your body and your muscles. This suction creates healthier fascia, which enables more flexibility and improved muscle recovery.
Cupping is also highly detoxifying. It pulls the blood and lymphatic fluids out to the surface of your skin and forces your system to recirculate all of that fluid. These body fluids will go back through your system and any toxins will be naturally processed. Cupping is a very deep and powerful treatment.
Finding an experienced massage therapist who specializes in cupping is key. The Licensed Massage Therapists at Perpetuity Skin + Spa are specifically trained in this type of massage, and these practitioners you can fully trust with such an important task of your everyday wellness, keep them in your weekly routine for your physical and mental health. Make an appointment today online or give us a call to organize a cupping session just for you!
We are Perpetuity Skin + Spa on Vista Avenue, and we are the Boise Bench's self-proclaimed best day spa! We offer many luxury day spa experiences, from organic facials, CBD massage, reiki, floatation therapy, hard gel manicures, facial waxing, dermaplaning, sugar scrub pedicures, Thai stretching, lash extensions, sugaring, body wraps and more! Our service menu outlines the therapeutic body therapies and advanced skincare solutions you've heard about, but haven't had the chance to try. The prices you pay here are fixed, no tipping, our deal is fair and square (curious why? Read here.) Come see why your experiences in self care should have always been in Perpetuity. BOOK NOW to secure your spot, or give us a call to organize something just for you! 208-996-3090