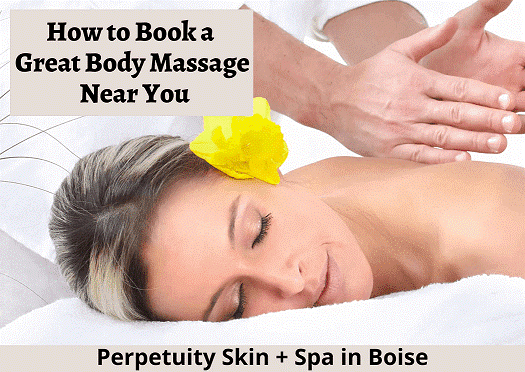 Massages are a common treatment for sore, stiff muscles and other body pain, but making your appointment can be overwhelming due to the variety of options available. If you want to have a relaxing spa experience, you can book a massage online. Always be sure to check online reviews, social media postings and the company's website. Understanding a spa's reviews and online persona will ease your hesitation if it is a new establishment or it's your first visit there.
To make an appointment for a massage, you'll firstly pick the type of massage that best meets your needs. At Perpetuity Skin + Spa, our Relaxation massage is a good choice to soothe sore and stiff muscles. You should consider this type of massage if it is your first time. Our deep tissue massage is used on those who have severe muscle pain. This type of massage focused pressure to relieve severe pain and tension throughout the body. If you're experienced with massages and are dealing with severe pain, choose this massage. This type of massage might be less pleasant for beginners and people with arthritis or other forms of chronic pain. You can also ask your Perpetuity Skin + Spa massage practitioner to recommend a type of massage to address your specific issues.
If this is your first massage, you might feel a bit overwhelmed by all of the options. When you contact us at Perpetuity Skin + Spa, just let us know, and us them a little bit about your needs. All we need to know is your time constraints, gender preference for your massage therapist, and what you'd like to get out of the massage, and we'll get you all set to feel good again.
Another way to enjoy the best massage is to follow massage etiquette. First, always arrive on time for your appointment. This will give you plenty of time to relax and will not send you and your massage therapist into a massage in a rush, or worse, have to cut the massage short. Always allow plenty of time for travel to the spa, and arrive 5-10 minutes early to complete any needed paperwork. At Perpetuity Skin + Spa, our forms are all able to be offered online, removing one-time pressure from your experience. Perpetuity Skin + Spa also has plenty of free on-site parking, so no hassles before your massage looking for a space!
You also want to be comfortable during the massage. You should undress to your comfort level. During the massage, your therapist will only expose the parts of the body that are working on at that time. Of course, you can also let your massage therapist know if there are any other parts of your body you are uncomfortable uncovering. This massage is all about YOU. At Perpetuity Skin + Spa we also ask about your oil preferences, music preferences, scent preferences and whether you like cold or hot towels for your treatment. Tailoring a massage to your individual needs and preferences is the mission of Perpetuity Skin + Spa.
Then, close your eyes and enjoy your massage. If ever you experience pain, speak up. It's normal to feel some mild discomfort when a massage therapist is working on sore muscles. Don't be afraid to tune out and let your mind wander. If you fall asleep, your therapist will wake you at the end of your appointment.
Get ready to feel good again! Book your massage today at Perpetuity Skin + Spa!
We are Perpetuity Skin + Spa on Vista Avenue, and we are the Boise Bench's self-proclaimed best day spa! We offer many luxury day spa experiences, from organic facials, CBD massage, reiki, floatation therapy, hard gel manicures, facial waxing, dermaplaning, sugar scrub pedicures, Thai stretching, lash extensions, sugaring, body wraps and more! Our service menu outlines the therapeutic body therapies and advanced skincare solutions you've heard about, but haven't had the chance to try. The prices you pay here are fixed, no tipping, our deal is fair and square (curious why? Read here.) Come see why your experiences in self care should have always been in Perpetuity. BOOK NOW to secure your spot, or give us a call to organize something just for you! 208-996-3090