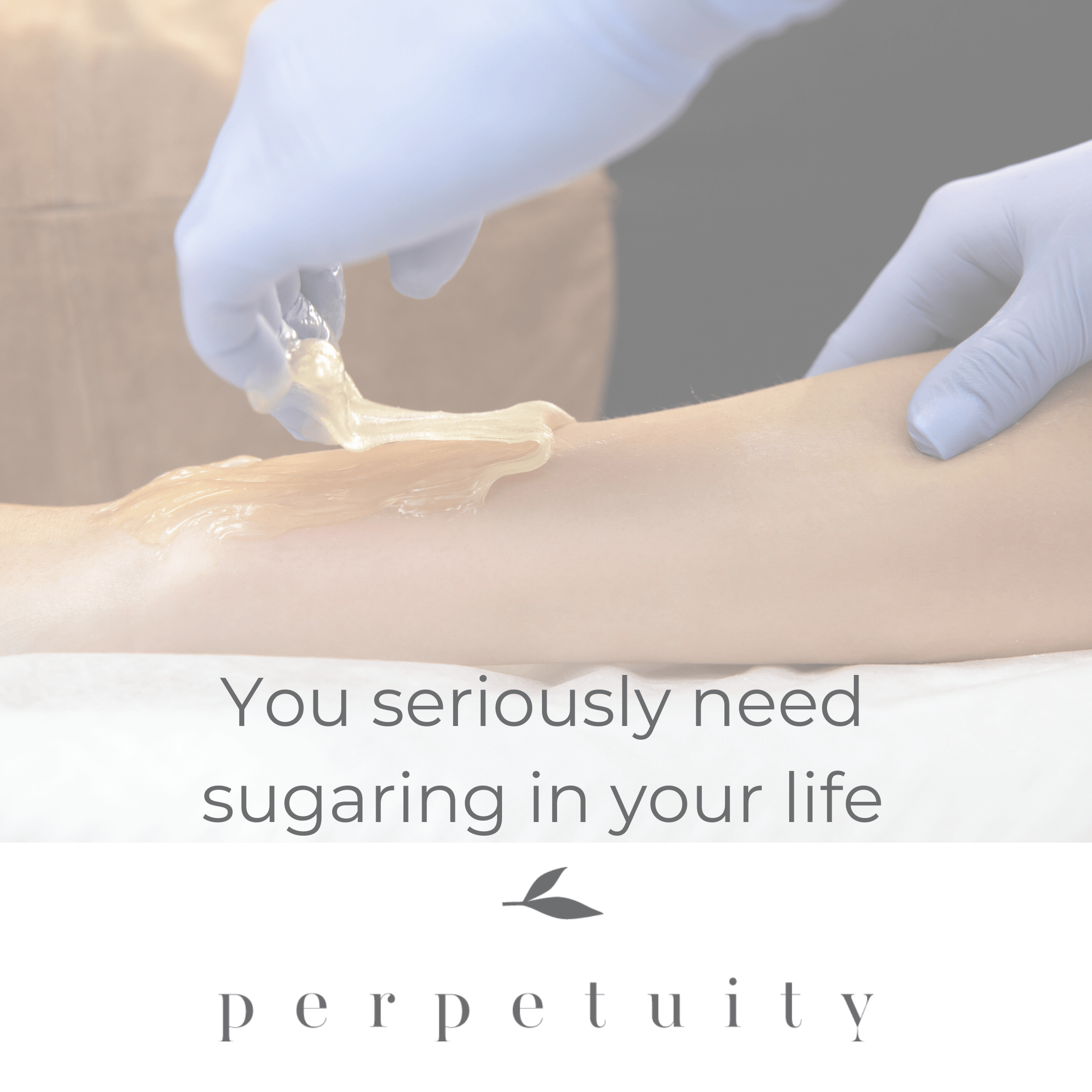 Who doesn't love smooth, fresh skin? We've all tried waxing and shaving – but have you ever tried sugaring? Sugaring is actually a really safe and organic alternative to traditional waxing. The sugar paste is made of just three simple ingredients: sugar, lemon juice, and water. The difference between sugaring and waxing is the direction in which the paste is applied. Sugaring gets the hair out at the root every time. We applied the paste using our fingers—in gloves of course—that way, we're able to get the substance right to the root. Then, we flick it off and the hair taken out in the direction of growth, so there is no breakage. We get a nice, easy removal.
Want a preview of the sugaring process? After the initial consultation, we have the client get up onto the treatment bed to be prepped. We use a cleanser to clean the area to be sugared, then we powder to dry the area, so the sugar paste isn't too sticky on their skin. From there, we'll start the process. We use a double glove system, which means the esthetician will have a set of biodegradable gloves on her hands as she preps you and gets you ready. As soon she's ready to grab the sugar, she puts on a second glove. She takes the sugar out, and she uses the ball of sugar until it's either full of hair or just the consistency isn't right anymore. Then, she will throw away that glove, grab the next glove, and that gloves goes directly into the jar of sugar. There is absolutely no double dipping here.
If it's a Brazilian service, and it's your first time, she'll explain to you how she will proceed to ensure you're totally comfortable. After the treatment is complete, she'll clean you off. What's great about sugaring versus waxing is wax doesn't always come off so easily, but sugar is water soluble. So, should it get on your hair, or your fingers, or be on your leg or wherever, we can wipe it right off, and easily. Sugar paste literally comes off in two seconds.
How long does my hair need to be? Your hair needs to be as long as a grain of rice to do sugaring. We recommend that you at least let the hair grow enough that you can pinch it. A safe bet is a month out from the last time that you shaved or waxed.
But won't it hurt? The old adage is true: every time you shave your hair, you're only strengthening it and making it thicker. On top of that, hair grows back in different cycles if you shave frequently. That makes hair more difficult to grab. Sugaring can be a little more jarring when it's your first time. When we sugar someone for the first time, we're breaking down the strength of the hair. The more you sugar, the thinner the hair grows and the less painful your next session will be.
What about post sugaring? The biggest thing we're trying to prevent is ingrown hairs, so since your pores are open, you don't want to sweat heavily because that all proliferates into the follicle. Skip the gym that day and avoid sweaty situations 😉 If it's something where you absolutely can't help but sweat, we always tell people to go and take a cold shower and close those pores back up. After a sugaring session, you also want to exfoliate every three days to prevent ingrown hairs. Generally, ingrown hairs come from dead skins falling off and going into follicles from sweat. So try and exfoliate in the shower regularly after your appointment to ensure that smooth skin lasts and lasts.
We are Perpetuity Skin + Spa on Vista Avenue, and we are the Boise Bench's self-proclaimed best day spa! We offer many luxury day spa experiences, from organic facials, CBD massage, reiki, floatation therapy, hard gel manicures, facial waxing, dermaplaning, sugar scrub pedicures, Thai stretching, lash extensions, sugaring, body wraps and more! Our service menu outlines the therapeutic body therapies and advanced skincare solutions you've heard about, but haven't had the chance to try. The prices you pay here are fixed, no tipping, our deal is fair and square (curious why? Read here.) Come see why your experiences in self care should have always been in Perpetuity. BOOK NOW to secure your spot, or give us a call to organize something just for you! 208-996-3090